One of the best-known American actors is Geoff Stults, He is best known for his regular roles on 7th Heaven, October Road and Happy Town. Today we will take a dive into his, past, present and future in this biography of Geoffrey Stults.
Background
Stults was born in Detroit, but grew up in Green Mountain Falls, Colorado, where he attended the University of Colorado Boulder. He went to high school in Manitou Springs. While attending Whittier College in Whittier, California, he began performing in the college's theater plays.
Career
In his early years as an actor, Stults appeared in advertisements with his younger brother, George. In the episode "What's with Robert?" of Everybody Loves Raymond, he played a mailman. After landing his first significant role on 7th Heaven in 2002 as Ben Kinkirk, a firefighter in the department where Mary Camden was training, Stults quickly rose to stardom. It was George Stults, Ben's real-life brother, who took on the character of Kevin Kinkirk. For two seasons, Geoff Stults played Eddie Latekka on the hit ABC program October Road.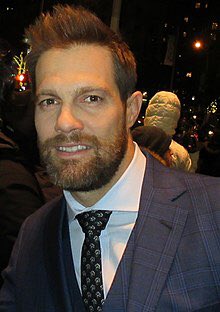 His first major film role was in D.E.B.S., a female action-comedy, where he met his future co-star, Michael Clarke Duncan, who he would later work with on The Finder. Since then, Stults has appeared in Wedding Crashers, The Break-Up, She's Out Of My League, and Life Happens in larger parts.
Find more Celeb info, Everything You Need to Know About Paris Fashion Week
In the 2010 film adaptation of I Hope They Serve Beer In Hell, Stults played Dan, a figure based on the book's popular characters El Bingeroso, PWJ, and GoldenBoy. ABC's Happy Town and How I Met Your Mother were among his other television credits.
Bones spin-off The Finder, starring Stults as Walter Sherman (a.k.a. The Finder), an Iraq war veteran who was left with an extraordinary ability to locate anyone or anything following a brain damage from an exploding IED. Duncan, Mercedes Masohn, and Maddie Hasson starred in the show. To fill in for Bones in the middle of the season, it debuted on January 12th, 2012. On May 11, 2012, the final episode of the show broadcast, signaling the end of the series.
Fun Fact: He played professional football in Austria for the Klosterneuburg Mercenaries. He played wide receiver for the team (now known as the Danube Dragons).
Personal Life and Relationship Status
During the summer of 2005, Stults was linked to former WWE star Stacy Keibler, according to reports. With Keibler as their target, the two appeared on MTV's Punk'd. In addition, Hollywood Fame is a franchise of the American Basketball Association that Keibler and Stults share a stake in starting in 2006.
To our knowledge, Geoff Stults is currently single.
Don't miss, 10 of the Most Underrated Actresses in Hollywood
Geoff Stults Pictures
Geoff Stults Videos
Geoff Stultz discusses his 2017 film,"Unforgettable" in the video below.
In the video below, Geoff Stults discusses an embarrassing fan story
Common FAQs
Geoff Stults Height
Geoff Stults is 6′ 2″ tall
Geoff Stults Age
Geoff Stults was born December 15, 1977 and will turn 45 in 2022.
Geoff Stults Net Worth
The American actor has an estimated net worth of $4 million dollars.